______________________________________________________________________________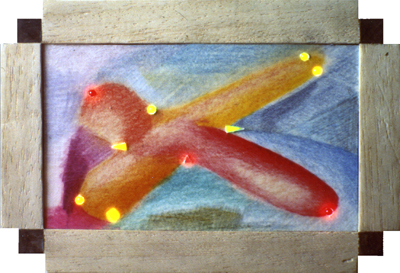 video
In the early 80's I started to make small LEDs in some way to animate my drawings. Then the individual LEDs have become brighter paths gaining a range of space that has no single point of light. The rhythms of light that are created with random firing and subsequent fragmentation of the unitary perception of time in minimum units trying to reach the smallest time possible, while the autonomy of the storm system moves away from dependence on our perception, forcing us to passive spectators
In the early eighties I started to introduce small Somehow LEDs to give life to my drawings. Then Became the LEDs light paths Gaining spatial independence in the single spot of light That does not have. The light rhythms created with the random and the splinter Subsequent lighting coherent perception of time into minimal units trying to reach the smallest possible time, while the independence of the system from time drifts away from the dependency of our perception, forcing us to be passive spectators
______________________________________________________________________________
In 1989 I produced a digital module containing 56 LEDs. Their ignition sequence created the illusion of a point of light moving along a path of 30 cm. When the point of light reaching the end of the segment, the cycle started again from the beginning or made from the next segment. This allowed compositions perrorsi of light long and complex texture or color in motion
In 1989 I made ​​a module containing 56 LEDs. They light up one after the other creating the illusion of a light point moving along a 30 cm path. Whenever the light point Reaches the end of the segment it may start again from the beginning or proceed to the next segment (while the first one stay still for a while). This allows for the composition of long and complex light paths of moving or color textures
______________________________________________________________________________
Video 1
VELVET SKIES
VELVET Skys
1999-2007
Electronic circuits, LEDs, fabric
Size 140 x 140 cm
Electronic circuits, LEDs, textile
The skies are blue or colored velvet panels. Are filled with small LEDs that are lit by an electronic circuit specifically designed and built, hidden in a padding Rear seat in the part of the fabric. The electronic circuit turns on the LEDs in a more random as possible. The skies are a little machine to split the time in small villages to get to the fragment unit and be able to stop the flow of time
This Sky is part of a series of panels Usually blue velvet, studded with little LEDs. These are randomly lit up by a custom electronic circuit hidden in the padding on the back. The Skies are little machines for fractionate erceivable less time in the unit, in order to stop the flow of time Virtually
______________________________________________________________________________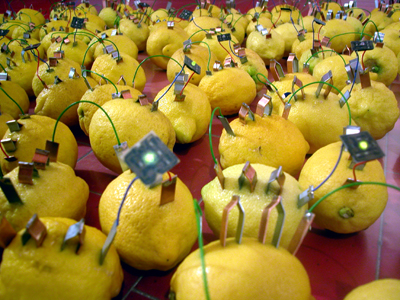 video
SKY OF LEMONS
LEMON SKY
2003
Bio installation
Lemons, electronics, metals
Bio installation
Lemons, electronics, metal
A floor yellow fruits. They are not forgotten by a bancarellaio market near here, have a giant flashlight scattered on the ground composed of 400 lemons pierced with metal sheets. Every 4 lemons a LED that pulsates through an electronic circuit that can take advantage of the weak electric current that is emitted by the slow chemical decomposition of the acid juice and metals. With copper and zinc, antique materials that recall the presence of man on the planet, the sunlight for months accumulated in fruits during ripening resurfaces in the twinkle of 100 LEDs in a sky of lemons. We look at the small point of light that flashes: is the sun of last summer.
"Lemon Sky". 400 lemons on the floor. Using as combustible material the acid part of the lemons pierced with small metal sheets, I created Volta batteries Supplied with energy That one hundred tiny LEDs, one every 4 lemons, That flashed in the half darkness for three or four days . That I imagined the lemons During their "work" of withering and decomposing would give back the sun stored in the tree by His fruits During ITS productive phase in form of small flares. It's a very simple and not very permanent work I'm engaged with. I think it's fascinating That A fruit of nature through an electronic device can palpitate for some days. It Seems to me the proof of dependence of our environment, our tight and deep bond to nature. Putting fuel into a car at a gas station Disappears this bond, the action is aseptic, Almost insignificant if not for an arched eyebrow Because of the latest price increase. Not even to the strength of a remembrance of elementary school, of submerged and fossilized forests That return now in liquid form, stops the habit of consuming. Beyond the simplistic and captivating vision of nature, the RESPECT for it, the energetic resources That Are not renewable - Including the sun, Fortunately in long terms - this "Lemons Sky" proposes a personal theme of my work: time. Six months of ripening, three or four days of life for the work and then very short flashes of light, fragments, like snapshots of the passing by of time. Our little daily flares slowly pour That, Sometimes without us. Implicit is the question if the flash has illuminated us or if we where simply absent at That Moment. I think of the work of Alighiero Boetti: "Annual Lamp" That turns on the lamp only once in a year. To be there in That Moment! To give oneself up in an artwork. Let's look at the small flash point: it's for last summer's sun.
______________________________________________________________________________
video
SKY DIGITAL
SKY DIGITAL
2002
Fiberglass, copper, electronic components, LED colored aluminum
Size 53 x 40.5 cm single module
Glass fibers, electronic components, LEDs, aluminum
Each 53 x 40.5 cm

The skies are a tiny digital and personal tribute to the work of the Cent mille milliards de Quenau Poèmes born from 'interest in the composition of random words and phrases such as images daily flow of events and people things that slowly coalesce into a kind of narrative nonlinear assumes meaning only through participation in our personal memories and emotions to build a frame that contains this narrative. Or better yet a media created images of sounds, voices and strange, like a personal video. Our employees work in progress. Sky Digital is composed of panels made of industrial discipline and cheerful with strict rules of order for the transgression, the optimization of space. The panels contain glass fiber on both faces 40 colored LEDs are grouped into groups each of which has full autonomy of randomness nell'accensione. This creates a chaotic flow of brillii continue with short and fickle relationships between a LED and the other. The continuity, however, inconsistent, and indistinguishable from the most acute sense of sight, mocks the progress and accumulation of many stresses to which we are subjected to every kind of medium "technologically advanced". A powder of debris that we drop our senses after a hasty perception. A light powder for a continuous and non-coherent light. Perhaps a metaphor for the sense and feel nothing? If not then just holds up the literary passion that took me back to Quenau, imagine (as now) a uniformly gray sky ottobrino and take a magical fantasy knife with which to isolate a rectangle from the cloud layer, back in the sky so serene, a bubble of drizzle and delightfully boring. With a second leap of imagination associated with your prodigious every drop that falls flashing an LED, you get a light rain continued volatile and unpredictable that descends from heaven with a single color: red rainbow of a principle.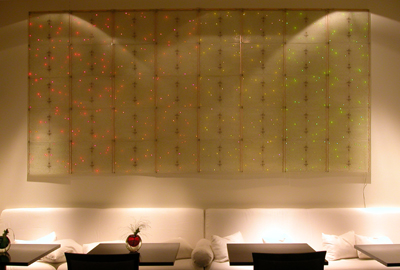 The Digital skies are a tiny and personal tribute to Quenau's work Mille milliards de Poèmes born from the interest in the random composition of image words and phrases Such as the daily flow of facts, things and people Which bit by bit clot into a sort of non- Which-linear gains in Meaning that only through taking part with our personal memories and emotions to know to make this frame Which can hold this. Or better would be to say to multimedia files made ​​of sounds, voices and personal as a very odd video. Our personal work in progress. Digital The sky is made ​​up of panels and built with industrial rigour merry transgression for the strict rules of order and space optimization. The glass fiber panels have 40 colored LEDs on Both Sides, Grouped in clusters HAVING Each full independence random lighting. Thus a chaotic flow of continuous twinklings HAVING brief and inconstant Relations Between LED and one another. The continuity Which is inconstant and imperceptible for the Sharpest eye Moreover, ironises on the advancement and accumulation of innumerable stimulations we are subject to by every kind of "Technologically advanced "media. A dust fragments of Which We let drop from our senses after a hurried perception. A dust of lights for a continuous luminosity and not coherent. Possibly a metaphor of nothing to be sensed or Perceived? If then you really not are supported by the literary passion HAD Which led me to Quenau, image (as today) a uniformly gray October sky and take a magical imaginary knife with Which to cloudy isolated from the blanket to the small rectangle, Within the sky Become now clear, a little cloud of fine rain and delightfully boring. With a second leap of your prodigious imagination links Each falling drop of twinkling with the LED, you will have a continuous rain of unpredictable and inconstant light Which falls from the sky with a single color: the red hint of a rainbow.
______________________________________________________________________________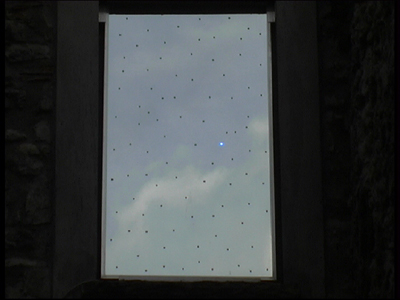 video
GEMINI SKY
GEMINI SKY
2006
Electronic circuits, LEDs, mirror
Size 104 x 40 cm
Electronic circuits, LEDs, mirror
On the outer wall of an old house there is a window recently sealed. I used this space to include a mirror that contains 100 LEDs that shine through a random digital system specially designed. A series work of heaven velvet panels, fiber glass, mirror, in whose nature I added tiny digital lights of different colors. Pass on the mirror reflections, the daily dark clouds all manifestations of a real sky reflected in the mirror that absorbs the lights by turning them into digital brillii of stars, new constellations in changing and becoming unstable in continuous form. The sky digital appropriates the real sky and real sky is indebted to the energy it provides through a solar panel that converts sunlight into electricity for its operation. A dual symbiosis. On the one hand, the artificial light that enhances the natural shine and new, while the latter through his strength gives life to the artificial in a mutual exchange of properties.
Gemini Sky has evolved out of the Lemon Sky, as a research on alternative energy sources. It is made ​​of a mirror with 85 white LEDs and blue LEDs 15, 'which are governed by a custom electronic circuit and light up one by one randomly. Gemini Sky is powered by a solar energy conversion system, with a solar panel and a battery for the storage of the electric energy produced by it. During the day the Sky is powered by the solar panel; Exceeding the energy is' collected and used at night and in the gloomy days (with an autonomy of about a week). The white LEDs are distributed randomly on the mirror surface, the blue LED's composed the Gemini constellation - a pattern That Can not Be Directly Perceived though. The digital sky takes over the real sky and Owes it it the power it is Supplied by a solar panel Which transforms the sun's light into electric power so it can work. A double symbiosis. On one side the artificial Which enriches the natural light of new and twinkles, while the Latter by means clustering of ITS Gives strength to the artificial life in a reciprocal exchange of ownership.
______________________________________________________________________________
video
Path V
2012
______________________________________________________________________________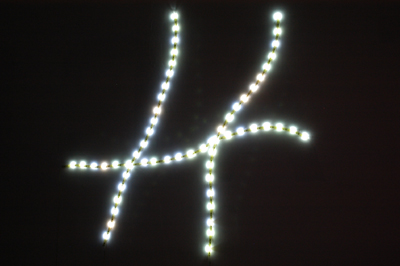 video
Path H
2012
______________________________________________________________________________